Benelux Coffee & Noble Woodsman Partner Up!
Two Raleigh Business have teamed up to bring you the summer staple worth indulging in! Benelux Coffee has partnered with us to refine our already formidable Widowmaker Coldbrew by providing us with a rich blend of Ethiopian and Indonesian beans known as their "17th Century Blend." This change in bean paired with an elegant roasting profile makes for a polished and sophisticated taste with all the complexities and deep flavor you have come to expect from our signature cold brew.
Origins of Benelux Coffee
In the summer of 1998, Steven Halaszi traveled to Belgium and the Netherlands with his soccer team to compete in a tournament. The outcome of the soccer games has long been forgotten, but the Benelux culture has been remembered. Landing in Amsterdam's Airport Schiphol, Steven bought his first Stroopwafel and headed to Belgium. In between soccer games, the Belgian street food made a lasting impression. In particular, the Brussels-Style Wafels were the most delicious and was the catalyst for the Benelux cafes. Steven and his wife Keta were ready to open Benelux Café. They made the move across the country to Raleigh, NC in 2010. Almost immediately, the first Benelux café opened in the Historic City Market in Downtown Raleigh. They have also partnered with a family-owned coffee importer that deals directly with farmers.
Widowmaker Coldbrew (The Process)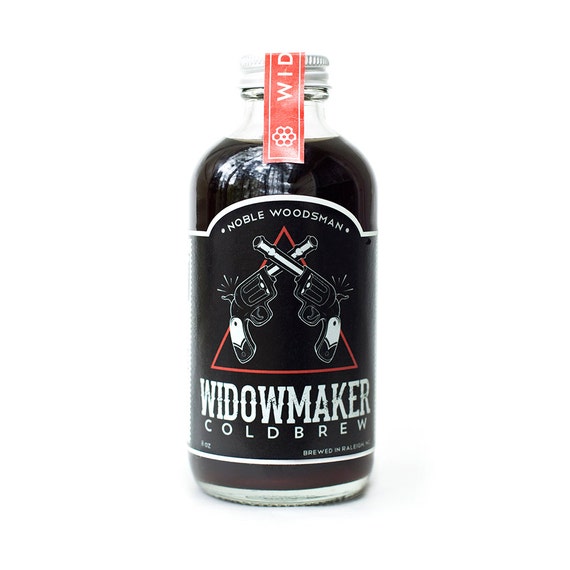 Our Cold Brew Coffee is an Ethiopian and Indonesian blend which is small batch roasted right here in Raleigh, NC at Benelux Coffee.
This particular blend offers a smooth, balanced flavor profile. These beans are emblematically laden with chocolate aromatics, ripe red fruits, and a soothing drinkability. All of which can be found within Widowmaker Cold Brew.
We then steep the roast without heat for over 18 hours within a liquid nitrogen chilled copper moonshine still, slowly processing the chemical reaction to deliver a delicious, subtle flavor profile. We then transfer our concentrate through the condenser to a charred oak bourbon barrel so the brew may age for one month – Inside: the brew is picking up the sweet bourbon, tanic oak, and syrupy vanilla flavors of the wood and adding these notes to its already complex body.
The end result: A brew that is begging to be enjoyed with milk over ice or with a shot or two of extra bourbon.
Widowmaker is a complex, smooth and full-bodied brew with low-acid and a chocolate finish. Feelings of wanderlust and elation are likely to follow.
Widowmaker Coldbrew (The Namesake)
The name "Widowmaker" is derived from a six shooter that is given to the woodsman during one of his expeditions into the vast back country. During this particular journey the Woodsman happens onto a ranch and finds a dying cowboy. The Woodsman takes this mans care into his own hands, and in the final days cooks and tries to remedy the perishing wrangler. During this occurrence the Woodsman learns that:
"There is no remedy for death, only a chance to stave away the fear of the beast within every graceful moment in between."
This story takes place in "The Noble Woodman" a novel in progress by Noble Woodsman owner, Shane Deruise.